Task Tracker
---
Task lists are there to help you manage your time. Unfortunately, nothing slows your productivity like endless meetings with your team and sharing to-do-lists from a spreadsheet. Matrify consolidates all tasks with all the important details, and all in one place. Fully customizable to suit your team.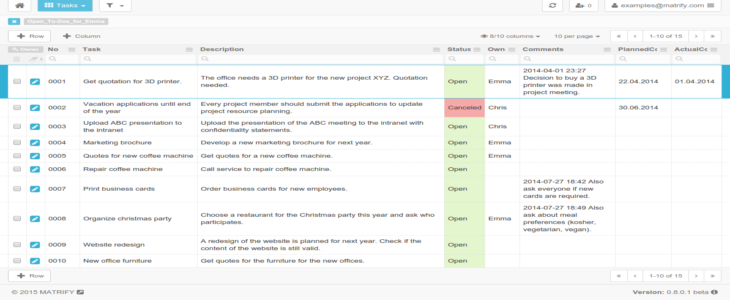 Task Management
The bigger the team, the more complex to manage and track. Matrify lets you create, assign and share tasks with your team. It's easy to collaborate and stay coordinated. With every task on one page, it is easy to monitor the progress and check if things are going in the right direction.
Up-to-date
Keep everybody in the loop. Make information easy to update through desktops, laptops and mobile devices. All the updates are in real-time. Everyone is informed and can insert comments if they encountered any issues or have any suggestions. Also, update the status as soon as it is completed. The team leader can swiftly track productivity.
Easy Search
Keep track of everyone! Configure filters according to the person assigned to the task. Sort records depending on the order you want or need.